EARTHWORKS - CONSTRUCTION - BUILDING MATERIAL - IMPORT MATERIAL - AERIAL PLATFORM
IMISTAV a commercial construction company that wants to provide quality services at the most acceptable prices. Its capacity and realize machinery all services, imports of building materials. We also work with čiatkových contracts to small number of staff. The main objective of the association is IMISTAV provide customers with the highest quality materials and work in the shortest time. Complete earthworks, reconstruction and construction works.
Earthworks
sloping, loading, digging, etc ...
Demolition and demolition hammers with Atlas Copco SB302


Demolishing the old house, bridge, threshing floor, the path, foundations, etc ...
Recycling construction materials


Special rubble crushing bucket to the desired fraction which subsequently use in other buildings at your location
Mix bucket Concrete


Making concrete directly on site with a spoon that once mixed 600 liters mixer for 4 minutes
Drilling equipment DIGGA PD7


drill a hole in the ground, fencing, poles, etc ...
Pallet forks
works for the loading and unloading and palletizing goods transport in difficult terrain
Import and transport of building materials


blocks, bricks, gravel, earth, etc ...
Mounted crane on a truck
unloading pallets, rafter, hammer beam, translation and Badia concrete to a height of 9 m
Hy
draulic work platform to a height of 24 m

gluing billboards, electrical work, opiľovanie trees, work at height, etc ...
Pools and Ponds


We offer solutions from A to Z. We will fulfill your wishes of design, project focus, earthworks, construction
works, supplies, wiring, commissioning and the sewage to the treatment temperature. In agreement annually
Spring start-up and winterizing in the autumn. We also offer regular maintenance and care of your already built a swimming pool and pond. All machinery and implements its own capacities.
Gabions and terraces


Gabion we separate neighbors, stop the landslide, vyrobýme fence, Melior watercourse, produce kitchenette in the garden, a bench seat in the gazebo and many other beautiful accessories to the plot.
Did you still feel bad that you have to land on a slope? Teras this changes because the terraces are a wonderful complement to the slope.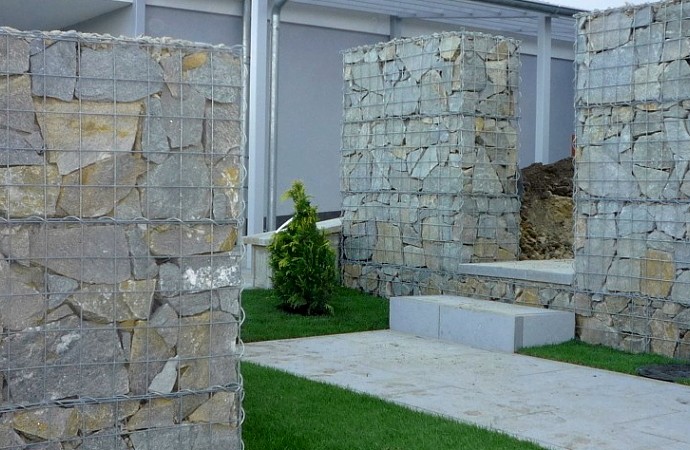 Grass blocks


At a time when the green lawns give way to asphalt and concrete, it comes with the perfect solution to strengthening grassland that has great technical qualities and is very environmentally friendly. Grassing paving offers strength characteristics of traditional surfaces such as concrete or asphalt mixtures, but also to preserve the natural character of grassland. Puruplast grass blocks are suitable for reinforcing a strong weight-bearing grassy areas such as car parks, driveways, railway yard, riding, paddock and under.
Its capacity and realize machinery all services.